Exterior Sewer Services in Wilson
Call Our Eastern North Carolina Plumbers When You See Signs of a Sewer Problem
No one wants to find out that they have a problem with their sewer system and drains. Sewer damage is always serious and requires a fast and effective solution. Fortunately, Creech's Plumbing is here to deliver expert sewer services in Wilson and throughout Eastern North Carolina. If you suspect that you have an issue with your sewer line, don't delay – call our certified plumbing professionals immediately.
There are several warning signs that you should call our Wilson plumbers for sewer repair or replacement services, including:
You smell sewage in your yard
The water level in your toilets is inconsistent
Foul smells are emitting from your drains
Your drains take a long time to empty wastewater
You hear gurgling noises when you flush your toilet or drain your bathtub
There has been a significant rise in your water bills
Your lawn has soggy spots or patches of extra green grass
---
Call (252) 262-2708or contact onlinenow to schedule an estimate. We'll get the job done right!
---
Sewer Video Inspections
When the appliances, devices, and mechanical systems that fill our lives have a problem, the issues primarily lie somewhere underneath the surface. Take a car problem, for instance. There are many car issues that require you to lift the hood to see what's going on. This cannot be done with a sewer system, since it lies a few feet underground. How can you "lift the hood" to see what's going on?
With our high-tech video inspection equipment, we take the guesswork out of diagnosing problems. We are able to obtain real-time images to give you accurate, expert advice for repairs and replacement. The process involves inserting a camera into your sewer line and visually locating the source of your sewer issue.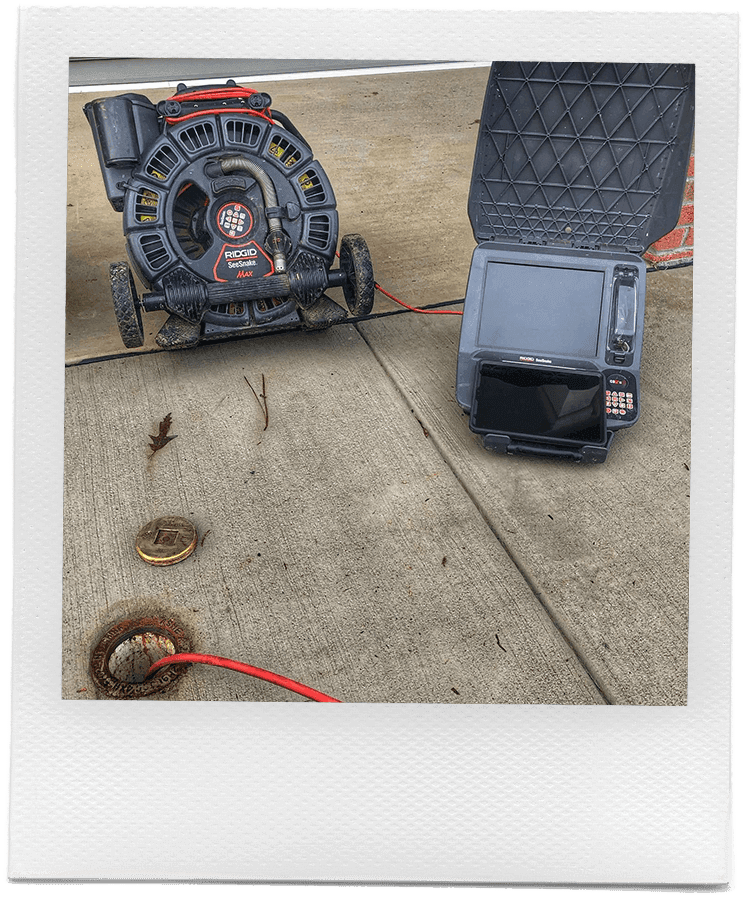 A video inspection enables us to see several types of sewer damage, including:
Tree root intrusion
Debris causing blockages
Leaking pipe joints
Bellied drain lines
Corroded piping material
Disjointed pipes
Collapsed drain lines
Cracked sewer laterals
Solutions for Your Sewer Line
Once we accurately identify the particular issue with your sewer line, we will be able to determine the best solution. Depending on the nature of the issue, there are a few different methods we can use to resolve the problem. Each technique involves the skilled use of advanced plumbing equipment by an experienced plumbing professional.
Our sewer line solutions include:
Hydro-jetting: If your sewer line is suffering from any type of blockage, including tree root intrusion, we can eliminate the problem with high-powered sewer cleaning.
Sewer line repair: When a sewer line has damage that exceeds a clog, other methods of repair will need to be considered. Whether we find a small crack or a major break, we can help you solve the issue quickly and affordably.
Pipe rehabilitation and coating: At Creech's, we can restore your sewer lines without the cost of a full replacement with our pipe rehabilitation and coating service. We use fast and effective trenchless repair methods that enable us to solve your pipe problems without the hassle of digging up your landscape, driveway, or floors.
New sewer lines and replacements: Whether you require the installation of a sewer line for a new construction project or a replacement of outdated pipes, we can ensure that you have a highly functioning sewer line for many years to come.
Let's Get to the Bottom of It!
Our expert plumbers are ready to diagnose your sewer issues and provide the best possible solutions. With over 45 years of experience and a commitment to excellence, our team can be trusted to get the job done right every time.
---
Contact Creech's today for dependable sewer services in Wilson.
---
Join Our Team!
Stacy & Sheryl Creech would like you to be a part of the Creech's family! Contact us today to get started.
Choose Creech's
We're Committed to Working With You to Provide the Perfect Solution for You
No Job Is Too Big or Too Small

Honest Service

Locally Owned & Operated

Tailored Solutions for You

Leaders in Technology

Customer Satisfaction Guaranteed