Septic Aerobic Remediation in Wilson, NC
Breathe Life Into Your Septic System
Restore the life of your drain field with our aerobic remediation that reverses drain field clogging caused by biomat in soil pores.
This septic system accessory will provide a noninvasive solution by which oxygen and bacteria are introduced, circulates and inoculates the contents in the septic chamber. The effluent that leaves the tank distributed to the drain field contains the cleaner effluent and the bacteria migrates to the soil pores where the reversal occurs.
Rejuvenation takes an average of two to three months depending on the extent of the failure.
If you believe your drain field is failing, or you want to protect your current investment, call us today for a septic system inspection, where we will analyze and evaluate your system to see if this application will work for you.
---
When you require septic aerobic remediation services in Wilson and throughout Eastern North Carolina, call the pros at (252) 262-2708 or contact us online.
---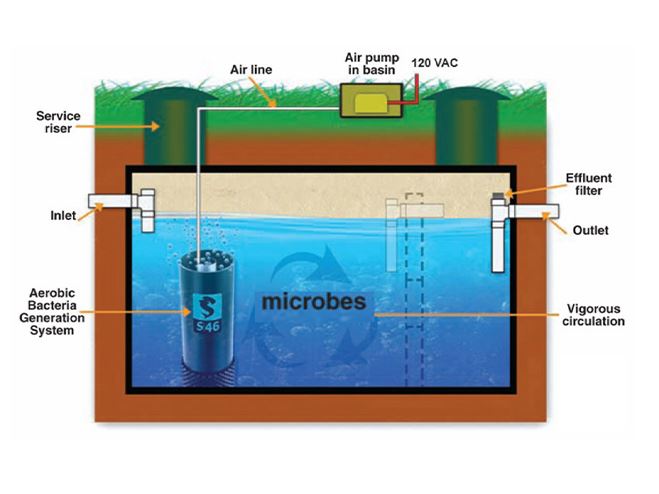 Unveiling the Mechanics: The Fascinating Reality of How it Works!
Experience the transformative power of Aerobic Remediation and enjoy a septic system that's not only efficient but also environmentally responsible and built to endure. This innovative solution becomes a natural process, that breaks down solid waste that often plagues septic systems . It achieves this by fundamentally altering the biological makeup of your septic tank, cultivating an environment that thrives on aerobic bacteria known for their exceptional waste digestion capabilities. The bacterial generator is installed in the septic tank, with added septic risers for easy access if not already installed.
To support the thriving bacterial community, an air pump is introduced, safely housed in a weatherproof unit. This pump connects to the system via PVC airlines, ensuring a continuous and reliable supply of oxygen to the aerobic bacteria, enabling them to work efficiently. The proprietary bacterial blend is then added to promote a thriving biological environment that digests solid waste and leaves behind clear, clean, nutrient-rich wastewater. The bacteria in the purified wastewater remain active as it travels through the system, and ultimately to the drain field. Perhaps most impressively, it possesses the capability to combat the buildup of biomat, which often hinders septic systems' performance. It can rejuvenate and restore your drain field, ensuring that your entire septic system operates optimally.
What Are The Benefits of Septic Aerobic Remediation?
Benefits:
Fits into existing septic tanks
No landscape destruction
Repairs failed septic drain fields
Eliminates odors
Low cost, uses the same energy as a 60 watt light bulb
---
---
Proud Members of the North Carolina Septic Tank Association
Trust the Experts!
Join Our Team!
Stacy & Sheryl Creech would like you to be a part of the Creech's family! Contact us today to get started.
Choose Creech's
We're Committed to Working With You to Provide the Perfect Solution for You
No Job Is Too Big or Too Small

Honest Service

Locally Owned & Operated

Tailored Solutions for You

Leaders in Technology

Customer Satisfaction Guaranteed