Drain Cleaning in Wilson, NC
Delivering Professional Drain Solutions in Eastern North Carolina Since 1974
Have you ever gotten the sinking feeling that your water is not sinking properly? If so it is important to seek drain cleaning services. Our experts from Creech's provide professional drain cleaning in Wilson, and can skillfully maneuver the pipes so that you can wash your face and do the dishes again.
Equivalent to the spinning wheel that appears when your Wi-Fi is down, the slowly spinning miniature whirlpool in your drain is another wheel of misfortune—and the sign that your clogged drain needs to be unblocked.
---
Call us today at (252) 262-2708or contact onlinefor a consultation with one of our professional technicians.
---
Signs of a Clogged Drain
It is important to know the signs of a drain that is becoming clogged so that the problem can be stopped before it escalates into a flood of other issues. You will want to be on the alert for one or more signs of these drain problems, which can serve as an indicator that you need to get professional drain-cleaning help immediately.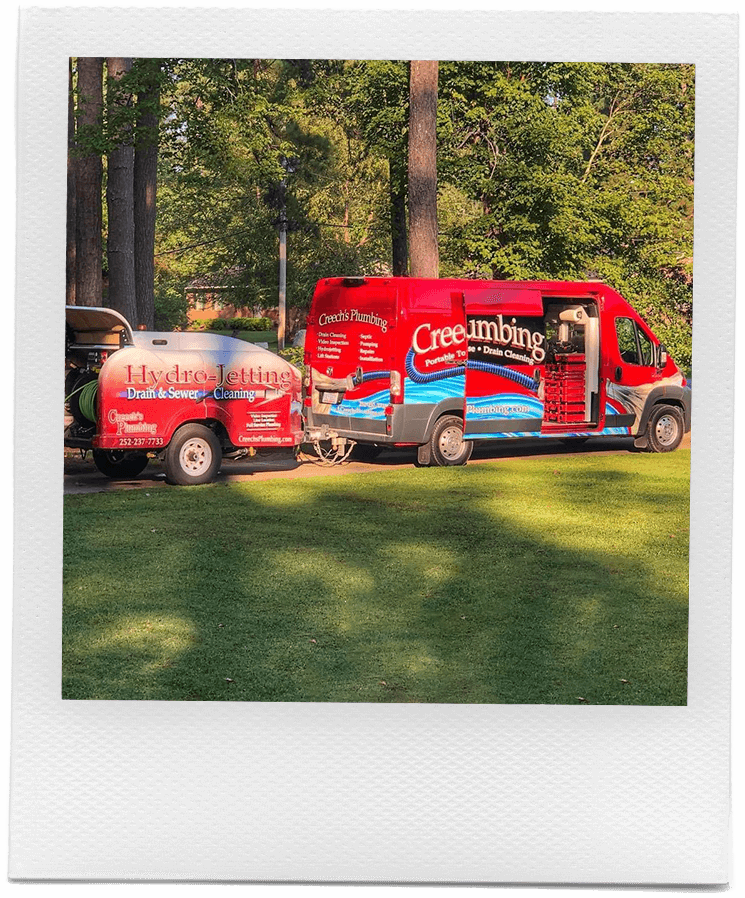 Some of the signs you might notice in a clogged drain could include:
Slow rate of water drainage
Strange, foul-smelling odors emitted from the drains or pipes
Puddles and pools of water on the floors of the kitchen or bathroom
Bubbles emerging from the toilet or the sink
Groaning, squealing, hissing, or squeaking sounds from the pipes
Water beginning to re-emerge from the pipes in your sink, bathtub, or toilet
If you are noticing any of these indicators, it is time to take action by calling a professional plumber.
Can You DIY Drain Cleaning
You can try drain cleaning yourself, but run the risk of damaging your drains. Unclogging your drain is rarely an easy fix. There is no plumbing equivalent to simply unplugging the router and rebooting the internet system.
Drains are complex and delicate, and trying to handle the issue yourself often only results in a worse situation. In these scenarios, it is important to find professional drain cleaning in Wilson, where one of our experts from Creech's can skillfully maneuver the pipes so that you can wash your face and do the dishes again.
How Do Professionals Clean Drains
When you call a professional drain cleaning company, they clean your drain by using a drain snake. This is also known as an auger and can typically clear any particles clogging up your drains. This is the most common way professionals clean drains, but have the equipment necessary shall that not work.
The Importance of Professional Drain Cleaning
In the moments of panic when you realize that you have a clogged drain situation on your hands, you may immediately want to rush out to the grocery store and buy the best chemical drain cleaners on the market.
The problem is that these store-bought cleaners are made with harsh chemicals that not only strip the pipes of their original durability, but actually can create more chemical buildup, making your drain more clogged than before. Rather than using harsh store-bought chemicals, call one of our trained plumbers to take care of your draining needs safely.
Hydro-Jetting Service With Offices in Wilson
One of the most effective solutions our experts offer to clean drains is the innovation of the hydro-jet, a cutting-edge example of the most modern sewer cleaning technology. When we perform hydro-jetting, we use a large hose to spray water under high amounts of pressure. As the hose comes back through the pipes, the entire sewer line is further cleared by strong jets of water, released forward and backward.
Our high-pressure water jetting service can be very effective on your clogged drains by:
Diffusing grease, dirt, and debris
Breaking up particles of lodged muck and sludge
Eliminating limescale and other hardened mineral deposits
Destroying tough tree roots below the surface
Flushing out masses that collected in the entire system
Support for Every Emergency
Being alert to the warning signs that your drain may be clogged is a great way to preemptively strike draining issues before they cause serious damage. However, sometimes emergency situations happen without warning. In either scenario, you are not alone and can simply find expert, local drain cleaning service in Wilson.
---
Contact usnow to get in touch with one of our friendly, knowledgeable technicians at Creech's.
---
Join Our Team!
Stacy & Sheryl Creech would like you to be a part of the Creech's family! Contact us today to get started.
Choose Creech's
We're Committed to Working With You to Provide the Perfect Solution for You
No Job Is Too Big or Too Small

Honest Service

Locally Owned & Operated

Tailored Solutions for You

Leaders in Technology

Customer Satisfaction Guaranteed